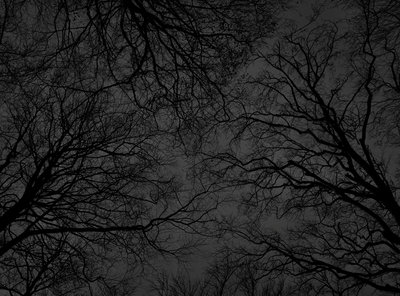 Black Forest
is a series of dark black & white landscape photographs of bare trees in autumn & winter woods.
"As often before the Black Forest series started by chance, and because of the circumstances of my life at the time.
I had no big plans for New Year's Eve, so I looked after a dog that was't happy to be left alone, with all the fireworks going off outside.
The weather was beautiful, so in the afternoon we went for a long walk in the nearby forest.
About halfway we stopped and enjoyed the scenic view on a hill, overlooking the fjord through the leafless bare trees. A place I have visited many times in my life, since my early childhood.
I made a quick image with my Iphone, which ended as a spontaneous New Year's greeting, but beyond that, there were no big thoughts behind it at the time.
Later I tried to play a little with the picture, and suddenly I could see the possibilities.
A few days later I returned & tried to recreate the image, which is newer easy due to the technical differences.
But mostly the fact that I tend to think to much, instead of using my intuition, like I do "when I shoot from the hip", so to speak.
The image above was made that day, and became the first one in the Black Forest series.